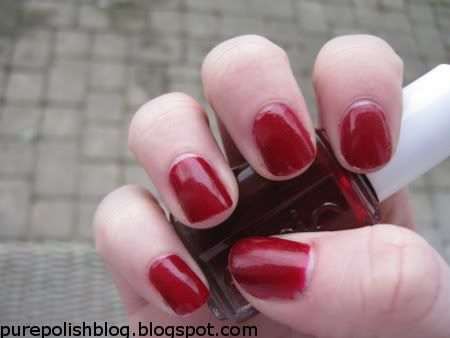 *Essie Bordeaux*
(2 coats)
Freaking awesome! I got this on clearance at Ulta for around 4$ so I'm hoping that doesnt mean it is being discontinued because I've fallen in love with this color! Deep burgandy jelly red....gah I love it! It made me feel really sophisticated haha. I would definitely put this on my "must have" list. Which is interesting because I don't think there are any other Essie's on that list!
Now I'm just going to rapid fire some thoughts on collections etc, etc that have emerged since my hiatus. So hold on!
CHINA GLAZE:
Isnt it bizarre knowing what all the collections will be from now until like next christmas? I dunno haha
OPI:
*facepalm* Seriously guys? I think some one in OPI's naming committee hit their head on something very hard. Yes, VERY hard. The colors in the upcoming collections are very pretty and I'm liking them a lot. But the names...oh god, the names. I think everyone knows about "Uh, oh, roll down the window" and what makes that worse is that it is a murky green color. ugh. But yeah, I like the colors in the road trip collection but the names not so much. Also, I'm not a big fan of the concept...personally I would have rather seen maybe another country collection.
Also, apparently there may be a Kardashian collection. Honestly, I'm not a fan because I think they are kind of horrible role models and I really don't believe they are deserving of the amount of fame they have. However, I'm of course open to any colors that they can churn out :)
Hope you guys have a great day!