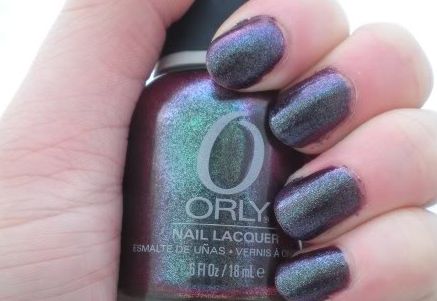 *Orly Galaxy Girl*
(2 coats-Preclean up)
When this polish first came out and I saw the name Immediately thought of this Disney Channel Original Movie called Zenon girl of 21st Century, about a girl who lived in a space station, it came out when I was younger. I loved that movie! (actually there were several) Has anyone seen it?
Anyway, when the Cosmic FX collection first came out I was happy to pass on all of them, because they were 10$ even on TD and they just didnt appeal to me that much. Well I found Galaxy Girl (along with the others) for only 4.99$ at my local beauty supply shop and that sweetened the deal. It's really quite pretty! But definitely not for someone who doesnt like to be very adventurous with colors. I did think it was way prettier in the bottle than on my nail, maybe its my skintone or something.
So yeah, pretty color but not worth 10$, in my opinion. I know a lot of people disagree but I think the color just didnt connect with me for some reason. I'll have to try again soon.
Oh and I love those rubber caps on Orly's, I just like the way they feel and the good grip they give.
Have a wonderful night everyone :)