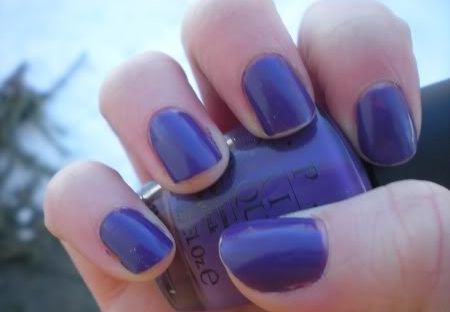 *OPI Funky Dunkey*
(2 coats)
Though I'm sure it doesnt need to be said, let me just give the general disclaimer that all purples of this type need: ITS NOT THIS BLUE IN PERSON. :D haha, seriously though, these types of purple are impossible for me to capture. Pretty much Funky Dunkey is a mid tone purple creme. plain & simple. I know ChG Grape Pop is a dupe and I'm sure there are tons of others. I really like it though, and I'm really surprised I didnt have a purple like this in my collection already. Though the formula was a teeny bit on the thin side compared to usual OPI creme formula, but it didnt give me any issues. Also, does anyone know if the shrek collection is permanent? Because my Ulta still has TONS of all the colors.
I definitely had an awesome birthday because I got to go to PF Changs, which I love! The lettuce wraps are amazing! And I had my favorite, honey chicken. So I'm a happy camper :)
Also I found the Anchors Away Collection at Ulta (while searching for Black Shatter, they didnt have it)! Except it was only a very little display that holds 1 of each color, luckily no one had touched it before me. So I got Ahoy! and Sea Spray...and I'm very happy with the purchase! Normally I never buy ChG at Ulta because they're like 6.49? somewhere in the 6$ range which is a lot compared to what you would pay at like Sally's or something. But I had a 20% off coupon so I just got them because I wasnt sure if I would get the opportunity again.
Whew, wordy post. I kind of just felt like jabbering today haha :) Thanks for looking guys!