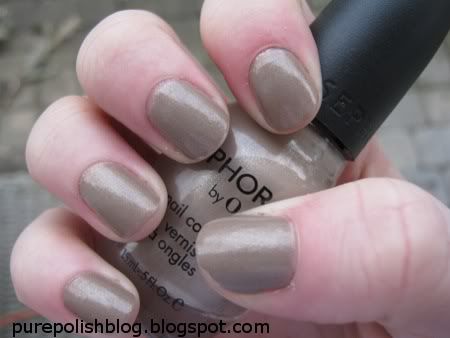 *Sephora By OPI Under My Trench-coat*
(2 coats)
Aptly named color! It really does remind of the camel-y color of trench coats. It has tons of gold shimmer that really kicks the color up a notch and makes it more unique to other neutrals out that. Application was okay, kind of thick but not un-workable. I really loved this color for a neutral, but wouldnt say its a must have. I've always considered my NP relationship with $OPI as love/hate. And right now I'm in the hate phase only because they hiked prices up to 9.50. Yes, 9.50! I know to most 'normal' people they may say its just 50 cents but $OPI was already a bit overpriced at 9$. Especially considering that in general a lot of the polishes seem sub-par to regular OPI's which are usually around 8-8.50.
Though I actually like the packaging haha, I know a lot of people hate it. I admit the brush is a little to thin, but I love the big thick cap and shape of the bottle. Seriously, I hate small caps haha, they make my hands cramp!
Now onto "Thoughs on other people using your polish" time:
Since I'm still a teenager I live with 2 other women: my mom & sister. I pretty much lend them any polish they want because I actually want to see my polish be used up. I think it brings me comfort knowing they are being used, and justifies how much I buy ;)
BUT this weekend my cousin came to stay at my house. She was having auditions for college (for theatre) programs and such. When she came in (she's 18, I'm 17 now) her nails were horribly chipped with a different color on every finger. *shudder* Her mom insisted I paint her nails because it was obvious her mom wanted something more appropriate for auditions. I brought down a bin for her to pick a color and she said she wanted to do it herself.
GAH! She totally gummed up the neck of plum full of cheer (she kept letting the excess polish on the brush fall on the side of the neck) Also she was painting all over her cuticles, which normally if someone does that I'm like "hey, its your nails" but she bites her cuticles and they were literally BLEEDING (not profusely or anything) and she was putting the brush over it.
What? Not only does that sound painful, but my brush was going over wounds....freaking gross!
Wow haha. Thats a really long story. I needed to get it off my chest because the whole time I wanted to strangle her. So how do you guys feel about others using your polish? I'm usually pretty chill about it but my cousin was annoying me so much.
that was kind of a rant. I should have warned. sorry! Thanks for reading and I hope you guys all have an awesome Oscar Night!