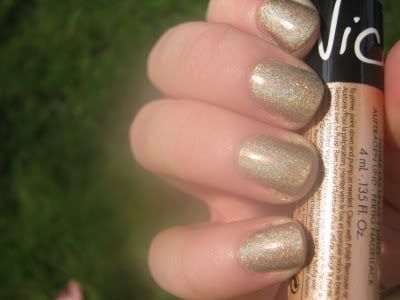 *Nics Sticks Rainbows End*
(4 coats)
Rainbows End is a beautiful linear holo (quite rare now a-days) that has a tan beige base to it. Both this and its sister Silver-ella have been surfacing at a lot of stores like Ross. I got mine from aveyou.com! Unfortunately, I completely forgot to use an aqua base, which made application a total PITA. But its so pretttttty. I'm willing to forgive :D
Believe it or not, this was my first ever true linear holo I've ever worn. I do love the look, but honestly I'm a little to lazy to track them down!
Also, was not a fan of the Nics Sticks brush, it was very mop-ish. I thought the pen would be easy to apply but it felt so big and awkward in my hands, maybe I just need more practice at it.
So, did any of you watch True Blood on Sunday? I'm not completely sure what to think just yet! Wish Eric got more screen time *swoon* his speech on the episode gave me shivers :) too much info? yeah...have a great night everyone!