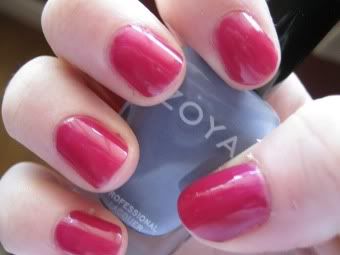 *OPI Houston We Have A Purple*
(2 coats)
Haha when I got this polish and was telling my sister about it I said "Yeah, it's one of the new sorbet things. Its called houston we have a purple...you know like Houston we have a takeoff!"
...what? Dunno what I was thinking haha but my sister thought it was funny :)
Anyway Houston We Have A Purple is the darkest shade of the Texas jellies. Most people say it doesnt look purple at all, but I think it does lean purple in certain lights. I thought this would be my favorite of the jellies, but I think I like the others better.
meh, not much else to say really. It's kind of rainy and gross where I live so my mood has matched that, I spent the day watching sex & the city (which I dont even like that much) and then like 5 solid hours of Project Runway.
Is anyone going to be sporting Zoya Sooki in honor of True Blood coming back on Sunday? I'm MUCHO excited because I'm so sad Game of Thrones is over but True Blood will ease the pain :D