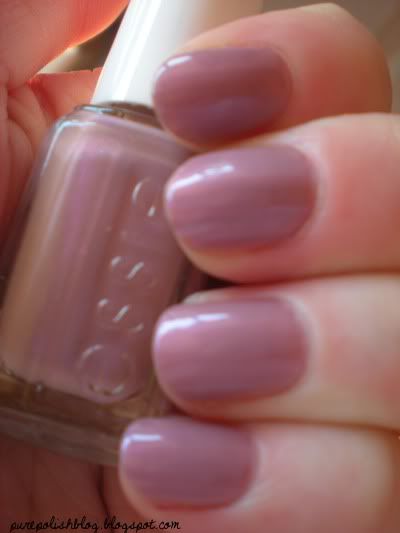 *Essie Demure Vixen*
(3 coats)
I actually REALLY liked this polish. Very pretty mauve color, and work appropriate. I think I may grab a full bottle of it, I could see this polish being my go to appropriate for all occasions polish. Though I have no clue why it was in the summer collection, because this polish doesnt seem summer-y at all to me. I've been really impressed with essie as of late!
Now, on the OPI matter...
I really REALLY do not want it to go through. Now I dont know an entire lot about the matter but body and soul had a very informative post I would recommend checking out if you havent already.
I dont even know how I can explain it...it just feels wrong haha. Like its going against what the company has always been about (private exclusivity and such). Mrrrrrgh. haha yeah I dont know what to say really besides that I think its a terrible Idea and I pray it doesnt go through.
I mean,is OPI in financial trouble and thats why they are selling? I know nothing about business (if you couldnt tell already lol)
I would love to hear all your thoughts on it so please let me know!
So yeah pretty much I'm totally against it...I just dont really have a concrete explanation as to why.
enjoy your night guys!
*EDIT* WOW, literally right after I posted this news broke its official. FIUHFIUHIGUHIUGHG! that is all :(