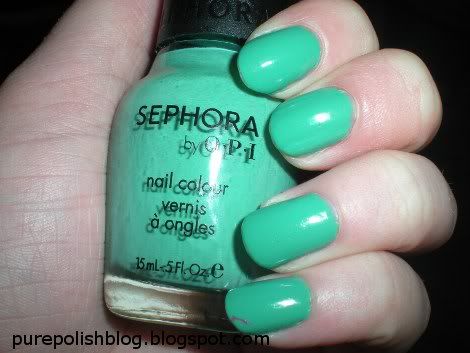 2 coats, slightly goopy but workable
Sephora's website describes this as a "opaque light jade green"
I think it's like a really blue-y green. or just a light turquoise. The picture makes it seem brighter than it really is.
I really like it! I love these turquoise blue/green shades. I think they really pop on the nail. But like I said the formula was on the goopy side which was disappointing...but it wasn't completely bad. I got this along with two other $OPI polishes during the F&F sale.
One of the others I got was Looks Like Rain, Dear! I wore it but didnt take pictures but I'm pretty sure it is a re-promote of Worth My Weight because they look exactly alike from pictures I've seen. Which is sad because I like the name Worth My Weight better haha..what about you?
Also I think "Teenage Dream" from the upcoming Katy Perry collection with OPI is going to be just like it only in pink. We shall see haha
Have a lovely night guys! I'm about to go paint my nails with Ali's Big Break!