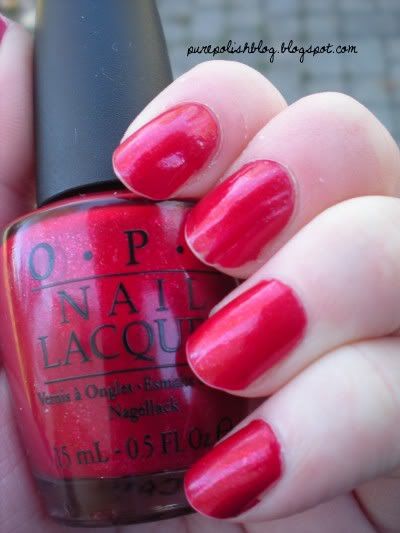 *OPI Ali's Big Break*
(2 coats)
This probably could have used 3 coats for complete opacity...but I knew I was only going to be wearing it for like two days. This polish is one of the type that has a "juicy" feel to it. I'm not really sure what I expected out of this polish...I'm very lukewarm about it. So, it's nice, I guess haha, I got compliments on and I've heard a lot of bloggers like it so I'll have to try it again soon.
But at least I didnt spend any money on it...it was free with my ulta rewards thing-y.
I hope all of you had a great thanksgiving! Fittingly enough, im also lukewarm about thanksgiving. DONT SHOOT haha...but yeah I just am not a big fan of all traditional thanksgiving food. Which may be because my aunt (who holds it) is not the best cook. She cooked the turkey without removing the bag of guts!!
Oh yeah, anyone get any good Black Friday deals? I stayed at home and from the safety of my laptop took advantage of the zoya sale, which was perfect because I needed gifts for my three best friends so I got them each a color cube with the BOGO+1. Annnnd might have picked up Crystal and Valerie for me...but no one needs to know that ;)
Have a great night!