Okay, if you were to ask me what my favorite color is I would say orange. If you were to ask me my favorite nail polish color, orange is probably at the bottom of the list. Something about orange polishes always goes wrong with me. I think it is a mixture of clashing with my skin-tone and also clashing with the colors in the clothes I wear.
But Eureka! I've found a wearable orange for me! It's OPI's Hot and Spicy: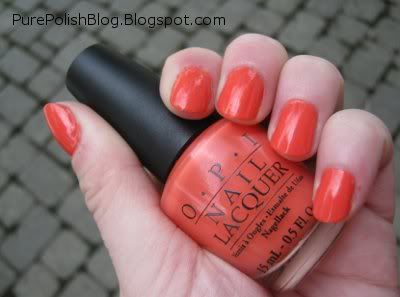 This is a very beautiful orange/tangerine color. I've heard some people call it a coral but I think in MOST lights its an orange. I only got the coral out in total sun. It also, like many other colors in the Hong Kong Collection, has that sort of dusty feel about it, which I really like.
3 coats, as it did have some issues with bald spots, but other than that no problems with the formula, which I know some people said they had problems with.
Also looks AMAZING on toes. Have a good Weekend! :D