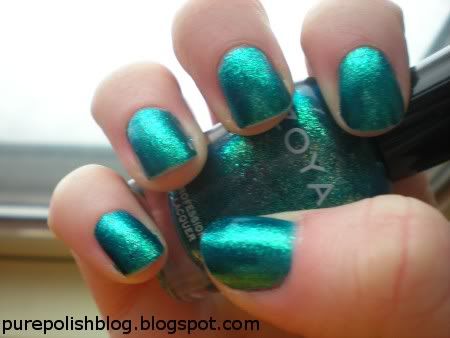 *Zoya Charla*
(2 coats)
LOVE LOVE LOVE. And mermaids. I think thats all?
Haha this bottle was to replace Catch me In your net by OPI which broke. I know that they are dupes, and maybe my memory is just faulty but I SWEAR that Charla dries way glossier/not as gritty as CMIYN did. Also this polish is a big compliment getter...so many people mentioned it while I had it on. Yep. Beautiful!
I ordered the Intimate collection and its on backorder :( BUMMER. But I was cheered up because I got a package today from Lola of Burb Beauty!(www.burbbeauty.com) In it contained OPI From A to Zurich and Nars Torrid blush which I won in a giveaway she had. Which brings me to her current giveaway, the OPI KP collection! Run & check it out...her blog is awesome!
Unfortunately I had literally just painted my nails Zoya Gilda when I got the package so I couldnt put From A to Zurich on, I can't wait to try it with Barielle Elle's Spell. Also I was pleasantly surprised by Torrid...when I looked at pictures on Nars Site it looked like it was hot HOT pink (maybe I was looking at the wrong picture haha) but its actually a really nice coral-y gold pink!
In other news I'm slowly becoming a MUA Nail Boarder haha! My name is kookiekathleen (don't ask) so yeah, thats me! Maybe I'll post a NOTD soon haha...I don't know, I'm kind of scared people will be like "OMG your nails are freaking hideous!!!"
(Okay this post is going all over the place but whatever) Annnnnd, OPI Texas is releasing tomorrow. From what I've gathered the Texas Collection release will be more...prepared? then the KP collection. Like remember the KP release date was actually pushed back because so many places didnt have them on time and what not. Yep. Originally I was super excited for this collection but with my budget it came between getting some Texas colors or the Zoya Intimate and the Zoya won easily. I may still pick up one of the "sorbet" colors. Psh. Sorbet? ITS JELLY. haha, yeah the sorbet thing bothers me only because I don't think sorbet is a good word to describe jelly polishes....jelly is a good word to describe jelly polishes lol!
Well I'm off to create a look for school tomorrow using torrid :D I'm thinking using my Benefit Her Name was Glowla kit for eyes.
EDIT: ^^Her name was GLOWLA. and LOLA sent me the blush. *twilight zone music*