Recently promo pics of The upcoming OPI Soft Shades and Brights have been coming out. I, of course, wanted to talk about it :D
The OPI Soft Shades Collection is Called Femme De Cirque. Pretty sweet name right? I got excited from just hearing the name, even though the OPI Annual Soft Shades are definitely the least exciting releases of the year IMO.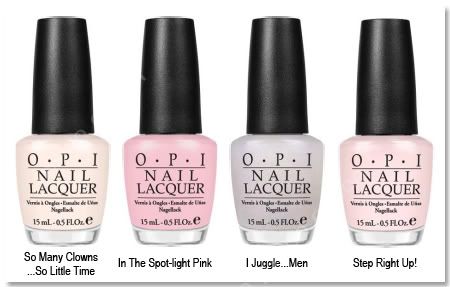 MEH. Like I said Soft Shades don't really get me going. You can see swatches of a few on alizarine's blog! Here's what I needed to get off my chest: OH GOD THE NAMES! Or I should say name, singular.
So Many Clowns....So Little Time. I SHUDDER. haha, im sorry but even thinking about that creeps me the hell out...and I'm not even one of those people that have a fear of clowns. But still. Creepy!
Heres Promo Pic for Pirates:

GAH GAH GAH. OPI could have done so much with Pirates as a collection. When I think pirates of the Caribbean I think of rich reds and deep purples....beautiful emeralds.I guess jewel tones in general. But we'll see how these come out...I do see potential for greatness, just not with the theme of pirates. ALSO I think the names could have been way cooler, with more character/movie specific names. As opposed to pirates in general. Also there will be a silver shatter releasing which sounds pretty awesome...though I'm getting a little tired of all the crackle
Sooooooo yeah. Thoughts? I always like to get out my original feelings on collections because its fun to look back after they come up. At this point Soft Shades is a Nay and Pirates is a Yay. I think some of the pirate colors may turn out awesome...I just think the colors don't match what I would think of as 'pirates of the Caribbean"
Have a great day. I used a lot of caps in this post...don't let it fool you, I still love my OPI's dearly :D
*pics from mbeautylounge