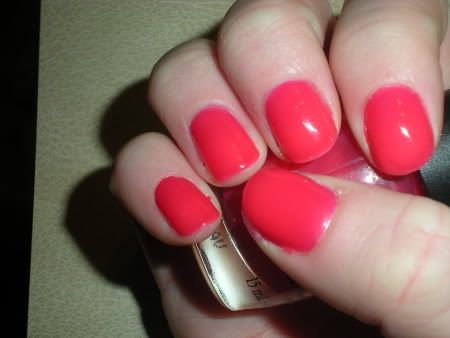 *OPI Guy-Meets Gal-veston*
(3 coats)
I LOVE the name haha, I think its really cute. Guy Meets Gal-veston is a "sorbet" (aka jelly) coral shade that is really juicy looking on the nail. I do wish that it was a touch more opaque, even though I knew it would show VNL. For people who like a more opaque look, Big Hair Big Nails, also from the Texas Collection seems really close to it. I'm really happy that OPI is doing jellies now, though I think its funny that in all that articles/advertisements about the Texas collection OPI really plays up how original the sorbet look is haha
Sorry about being gone so long! My computer got a virus and I wanted to wait until my dad, who was away, got home because I was afraid to touch it haha. Also I'm excited because I got my ulta rewards today which = 2 OPIs or ChG for me! :) So its not REALLY breaking my new no buy, right?
And to end with, a cute crack story! :D
Haha, like a lot of people I have been searching for OPI shatter since it came out with no luck, every time I went to Ulta they were sold out and so was the local JC Penny Salon. Anyway I pretty much just gave up because I didnt want to order it online (I've heard its on ebay & such for mucho $$$). But yesterday my and my friend went out for her birthday and when she got in the car she pulled out a bottle of OPI Shatter & gave it to me! HEART=MELTED.
She said she was at Ulta, and there were only about 4 bottles left so she picked me up one! Luckily she was with her mom because apparently the people at Ulta were only letting people buy 1 per person. Which I can kinda understand because I dunno, like what if those times when I checked and it was out of stock, some lady who came in 5min before just bought like 3 bottles. But then its also annoying cause if you're getting for a friend or whatever.
Yep. Have an awesome day guys!