Hey everyone! I was roaming around TransDesign when I saw they had OPI Hoodoo Voodoo and Smokin' In Havana for sale! If you remember or did not know, these shades where included in a 100,000 fan giveaway OPI had on their facebook where they gave away 12 (I think....actually maybe just 8 or 5) retired shades. And these two were part of it!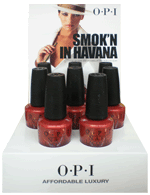 (Smok'n in Havana)
Now, these 2 don't excite me really BUT I can only pray this means they will be bringing back the other shades (aka I NEED Parlez Vous OPI?) Hope you guys are having a really awesome day! I had a snow day due the freaking 18 inches we got and I have a 2 hour delay tomorrow, WOOT! :D
Any of you guys excited for these 2?
*got the image from TD