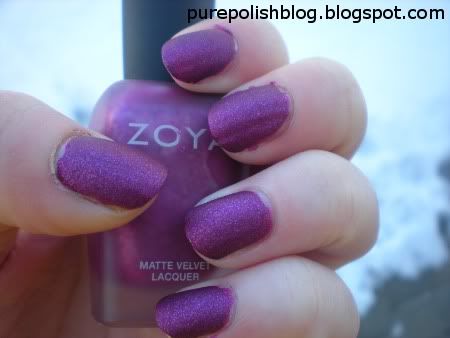 *Zoya Harlow*
(2 coats-Pre CleanUp)
Harlow is the purple-y pink matte velvet shade from Zoya! Depending on how you look at it, I could see it being purple OR pink. As with all of the matte velvet shades that I have, its really amazing! Application was great and dry time was uber quick! I know some people say that it dries so fast you won't even be finished painting the nail...but that only makes me wonder how slow they are painting their nails haha :) or maybe how fast I am. Either way Harlow is simply gorgeous and if you are into mattes you should definitely get it! Though I would suggest Savita or Verushcka before Harlow...but they are all amazing!
I've set a budget for spring nail polish (hoping to limit what I get) and it's hard narrowing it down, so many awesome collections! I'm SO enthralled with the new a england brand, with all the mythicals. Because like a lot of people it seems, I'm really into that time period. But converted to USD, they are like 15-16$ dollars each...ouch :/
Also, speaking of expensive polish, have you guys seen the new RBL polishes yet? What do you guys think? I really love the purple gray one but the others not so much. Which is good for my wallet I guess.