Here's my loot from the 3 free FB thing! I, of course, could not be restricted to only 3 and ended up getting 4 and ridge filler.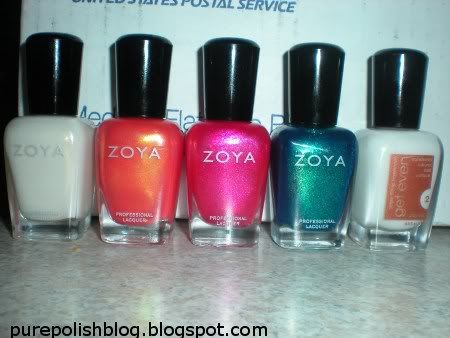 1. Gaia
2. Gwin
3. Gilda
4. Charla
5. Ridge Filler
Lots of G's haha! I got Gaia (I prefer spelling it Gaea) simply for the name, because in my ancient myth class we had to dress up as gods/goddesses and pretend we were them and I was gaea. But it does look very pretty!
So, yeah I havent really been around because I was on my schools Model United Nations trip. If you are in Highschool and are interested in politics or just world issues: JOIN! It is so awesome! You get assigned a country and represent it in whichever committee you are in. I was in Political & Security representing Sudan. However Sudan had its referendum to separate into 2 countries right in the middle of Model UN so...yep.
Anyway thats whats been going on. The conference totally WRECKED my nails so they had to be cut even shorter than the were. I wore OPI Plum Full of Cheer and have to say, wasnt loving it.
Hope you all are having a great day! I have a backlog of untrieds that is soooo long and they are mostly Zoya...so expect a lot of Zoya coming up haha :)