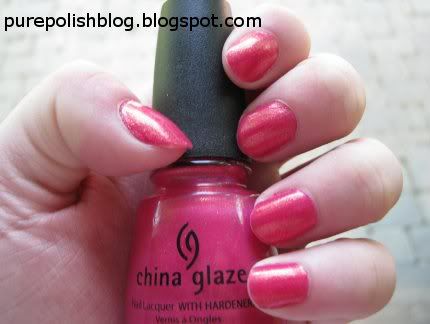 2 coats, medium pink with golden shimmer running throughout it :)
Sunlight Shot ^^
It is kinda of early in my blog for any of you to know but I'm a total creme girl. So if there is shimmer in a polish it has to be pretty darn special to make me fall in love. I liked Strawberry Fields. But I dont know, something didnt completely connect with it. I think it is because I've seen so many reviews of people flipping out over it I thought it would be way better than it actually is.
But still, very pretty :D
The reason this wasnt up sooner was because I got to go to a concert last night!!! It was the reunion tour of Something Corporate. They arent really mainstream haha, but if you've heard of Jack's Mannequin they have the same lead singer. I REALLY wanted to paint my nails "Jade Is The New Black" but I didnt have time :(
The concert was awesome though!! Except there were two drunk girls dancing like crazy in front of my group and one threw up on a poor bystander!
Tomorrow I'm going to have a great post with a whole bunch of stuff I got at Ulta this weekend...(hello swiss collection :D) Have a great day!!