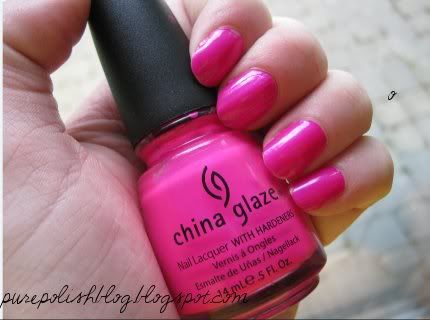 This is 3 coats of China Glaze's Neon, "Purple Panic" which is totally photographing as a complete pink. In reality it is a darker purple fuchsia color. These pictures are shown with topcoat, because since its a neon this color dries satiny. BUT this had incredible dry time which was awesome.
4 days wear and you can tell there is some chipping happening
This is a good neon if you want to try some neon color, but not the ones that you need to shield your eyes to look at :) It isnt really quite as neon as all of my other china glaze neons.
Overall I really like it.
HAULLLLLL. I had a Sally's coupon so I went and picked up some random china glazes that I had been wanting. The lady who worked there really knew her stuff which was cool because usually when I go places the workers dont really know anything haha. She was trying to convince me that Finger Paints wear a lot longer then china glaze, but FP didnt have any neons so I went for the CG's.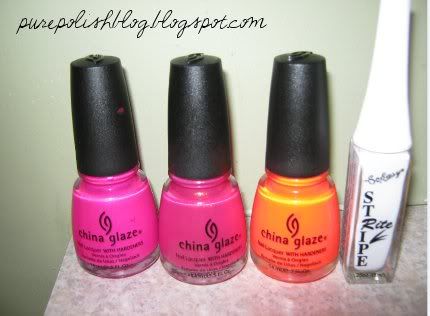 -Purple Panic
-Strawberry Fields
-Orange Knockout (took the plunge to try out another orange!)
-Stripe Rite in plain ol' white.
I'm most excited to try out strawberry fields and the stripe rite!! Hope you're all having a lovely day ^_^