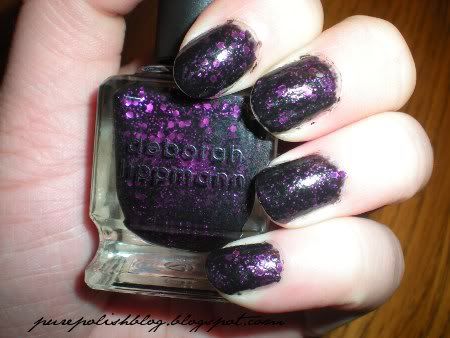 *Lippmann Bad Romance*
(2 coats)
I have a theory. You know how women who are close/spend a lot of time together tend to get their period at the same time?? I think bloggers are like that with nailpolish haha! Like we wear/blog about the same polish at the same time. (and I mean NOT new releases..like I saw bad romance pop up on some other blogs this week). I dont know if that even made sense. BLAH.
This polish applied amazingly! 2 coats which were better than some of my cremes. I think this picture is good because it shows that the magenta glitter is sort of murk-ified by the dark base. But still dazzling! And removal was pretty painless which is a massive plus. This was my first time trying deborah lippmann and I really liked both the brush and the bottle shape.
In other news Ji (RBL) brought back 4 colors! So excited, only because Bikini Bottom is one of them and I really want all of the Spongebob colors. I'm so giddy about it I HAD to put on a RBL so I'm sporting Anne currently. Have a wonderful night everyone!