I saw this when browsing through the latest Ulta circular and thought I'd share!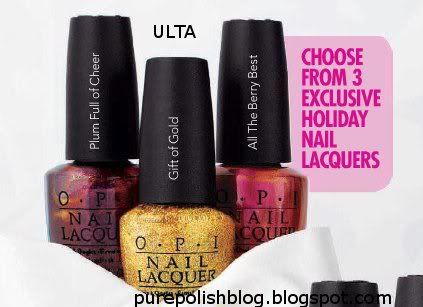 1.Plum Full of Cheer
2.Gift of Gold
3.All the Berry Best
Okay, LOOK at plum full of cheer...I'm liking the looks of that gold shimmery stuff! :)
These will be sold exclusively at Ulta's for 8.50 each and they also come in a mini pack containing each of the 3 colors plus a mini topcoat for 6.95 which is cheaper than OPI mini packs usually are I think.
Very promising! Can't wait to see swatches of these...What do you guys think?