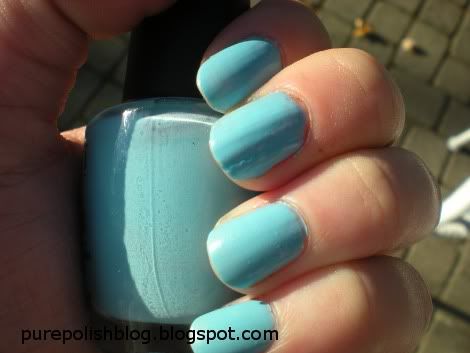 *OPI What's with the Catitude*
(2 coats)
You can tell I was fighting for sunlight in this pic...but I think it is pretty true to color. A pale blue, very nice and refreshing for summer, when the Shrek collection came out. I don't really have much else to say, but I do love this color a whole lot.
I know a lot of you guys are out of school but do you all remember how painfully slow the month of december goes until break? Its excruciating. I've already got done pretty much all of my shopping and I thought I'd share what I got people so maybe it could spark ideas if anyone is looking. Mostly I just want to share what I got but I cant tell anyone in my family haha:
Mom: PJ's from Ann Taylor Loft. It's one of my moms favorite stores and they were having a 40% off everything sale. The motivation was my mom keeps complaining about hot flashing (haha, she's hilarious about it!) at night & being over heated so they are all cotton and very light weight.
Dad- Road ID, its a bracelet you wear when cycling/running that has all of your personal info on in case you crash or fall and some stranger finds you.
Sister: Unofficial Harry Potter Cook Book. We're both Potter nerds, 'nuff said :)
Cousin: Hub man, its a little man with usb ports for arms and legs...so you have like extra ports. I dunno, he's like 24 so hard to shop for, but I thought it was a good idea
Aunt: Bath and Body works sleep aromatherapy gift basket thing with some of those extra long socks from my november favorites.
Nana: Chocolate. LOTs of chocolate haha
Have a great night guys :)