This is my first makeup post! So I guess "Pure Polish" isnt a good blog name now LOL, I like it...it allows me to post more since I dont always change my polish that often.
Urban Decay 24/7 Liners are awesome! I highly recommend them, I use Bourbon pretty much everyday. I picked up Crash, described by Urban Decay as a dark sparkling plum (or something) because I wanted to switch things up a bit but not go to crazy.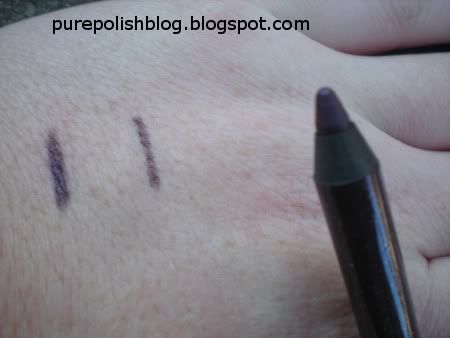 Left: Crash after a few swipes
Right: 1 swipe
When I got it in person I was worried it would be to sparkly...but it really isnt! The sparkles come up subtle and give you a little extra twinkle. I use Crash to line my upper lids.
Overall, its a great product. Perfect if you're looking to switch up your color schemes or do a great smokey eye! Urban Decay Liners are 17$ (worth it I think...they last a pretty long!) and can be bought at urbandecay.com, Ultas, Sephoras ect ect...
Random, But here's my christmas tree!
And this cute little donkey decoration thingy!