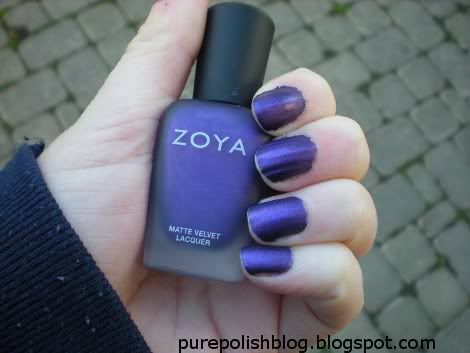 *Zoya Savita*
(2 coats-matte)
This is a pretty bad picture, pre-clean up, but I love this polish! Being in highschool sometimes it can be really hard to change your mani if it chips or something like that because I dont have time to let my nails dry...this polish fixes that! Like most mattes it dries super quick which is a giant plus in my book. You NEED this polish if your super busy and want to eliminate dry time..trust me haha
OH HAPPY DAY!
What's on my nails right now? Essie Sew Psyched!!! I think I've said before that ordering online is hard for me because I dont have any credit or debit cards...and when my Ulta was sold out hopes of getting this polish were dashed. But today I randomly wandered into this local beauty store while my mom was shopping nextdoor, I turn a corner and
BAM SHACK A LAKA DING DONG OMG I JUST DIED!
A huge wall filled with Essie, OPI, Orly and China Glaze!!!
I'm probably ranting but I'm very excited! I would always be sad when on other blogs people would say they found these HTF/really good sale polishes in their local beauty supply stores because I didnt have one. But now I do haha,
the prices were great also! 5.49 for essie, 6.99 for OPI and I think 3.99 for china glaze & orly. It took so much restraint to walk out with just 1 because I'm trying to save my money right now.
Have an AMAZING night :)