I hope everyone who is celebrating is having an AWESOME christmas! I'm waiting for my extended family to get here so I thought I'd post my Christmas mani and some goodies santa left for me :D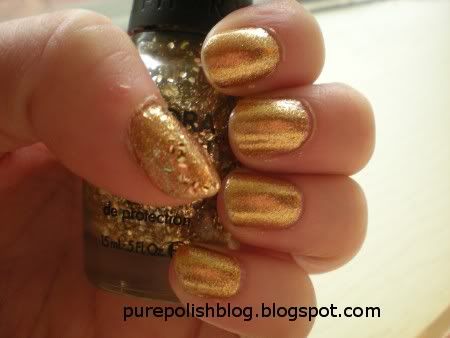 *OPI Dazzled By Gold w/ $OPI Only Gold For Me Topcoat*
(2 coats)
I remember when I first got this. Ulta was doing that thing where you spend 17$ you get a free bottle, but the bottle has to be one of the exclusives. They were completely wiped out of the purple and red which I was so upset about because I was in my hating gold phase. So I got Dazzled By Gold, hating it but it turns out it is pretty much my favorite gold ever now! 2 easy coats for me, people with longer nails may need 3 though. Just look at the picture...it says what I can't haha
Also, I got $OPI Only Gold for Me as an Xmas gift so I decided to put it on top of my thumbs this morning!
And here's all of the nail polish I received for christmas! I dont know where to start for trying them!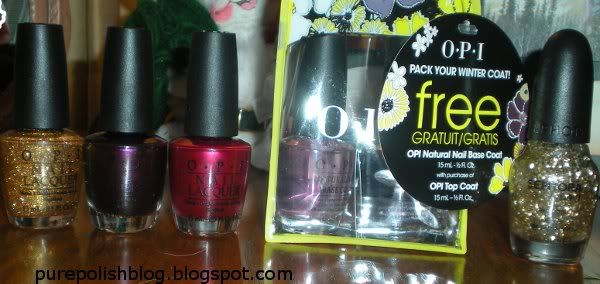 1. Gift of Gold
2. Plum Full of Cheer
3. All the Berry Best
4. OPI Base & Topcoat Combo (I didnt wish for these, and dont need them all that much, but I'm in love with the package...it will be great for bringing polishes if I'm traveling!)
5. $OPI Only Gold for Me (Ohhh, look at that sparkle!)
And here are a bunch of Zoya's I also got!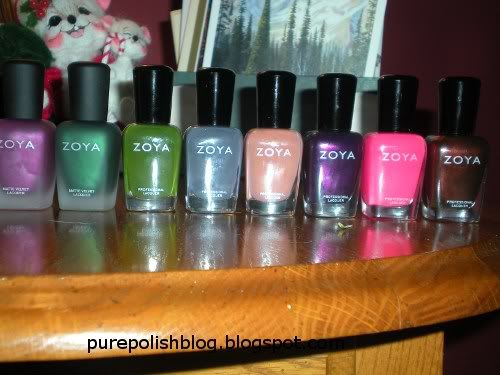 1. Harlow
2. Verushka
3. Shawn
4. Kelly
5. Flowie
6. Yasmeen
7. Ali
8. Cheryl
What an awesome Xmas! Also my family really liked my gifts for them which was great to see, I love watching peoples faces as they open gifts! Have an amazing day! I'm like peeing myself here!